Overall average school of a name of S. Kozhanov is located in Maktaaral district, Asykatinski zone.
– 1941, the school was named for the Russian pilot Valery Chkalov. After the assignment of independence of Kazakhstan was renamed the name of the Kazakh leader, patriot Sultanbek Kozhanov in honor of his centenary. Since 1994, the school called his name.
---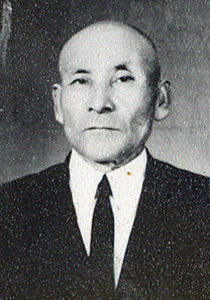 The first Director of the seven-year school named after V. P. Chkalov from 1944 to 1953 was Asilbekov Egen.
---
Since 1953 the school was headed by Kenzhekhanov Kaldarbek.
---

From 1960 to 1962, Sabaev Niyat was recommended for the post of director,
---

1963-1965 the director was Sarmanov Kurmanai,
---

from 1966 to 1968 Tukibaev Daurenbek,
---
from 1969 to 1970 Astanov Duzelkhan,
---

from 1971 to 1985 the director was Sadykov Tursynbai.
---

from 1985 to 1987, Esimov Orazaly,
---

from 1987 to 1997 Kabylbaev Paizulla,
---

from 1998 to 2003 the director was Zhunisov Bakyt,
---

From 2004 to the present day, the position of the director is headed by Zhunisov Arap.
---
          The first veterans of the general secondary school named after S. Kozhanov (V. P. Chkalov) are: Bektayev Abdirash, Tazhibaev Erkebai, Absemetov Seyilbek, Baibolov Zhumagul, Raımkulov Abdikhalik, Akenov Abdimalik, and others.